Can You Really Get Paid To Lose Weight?
I was so mad when I heard about this program, but not for the reasons you'd expect.
I'd already darn near hit my goal weight when my husband first stumbled upon this program from Healthy Wage, and we both wish like heck we had known about it when we started! We missed out on some serious cash.
Maybe this sounds familiar:
You KNOW you need to lose those extra pounds.
You buy a cookbook full of healthy recipes. You make a plan of attack, and you KNOW that this time will be different, you're going to rock this!
You set a date, formulate your plan of attack… and then;
You lose momentum. You make excuses, get lazy, or procrastinate.
You'll start tomorrow right? It's always going to be tomorrow, how many tomorrows are you stacking up before you take your life and your health back?
Weight loss doesn't begin in the gym with a dumb bell; it starts in your head with a decision.
How many times have you been through this cycle?
What can you do to ACTUALLY execute your plan of attack?
You KNOW you need this, you KNOW you are capable of doing it, so WHY haven't you?
 The answer is simple.
Look in the mirror, that's your roadblock, your competition, the one and only person in the world capable of holding you back.
That person in the mirror is quick to console you and assure you that while you found a reason to delay again today, tomorrow, we swear, will be different.
According to the results of this study, when starting a new diet plan;
2 out of 5 people quit in the first 7 days
1 out of those 5 will make it 30 days
1 out of 5 will make it to 3 months
And one lone individual makes it to the 6 month mark
The main reason cited is a lack of mental "stick-with-it-ness".
It's very easy to go off plan "temporarily", but as any yo-yo dieter knows, a cheat day turns into a cheat weekend, turns into a cheat week, month, you know the story.
We've all been there, right?
"I'm grateful for HealthyWage because it finally got me to do something I really needed to do for a long time. Thank you!"
"I always came up with an excuse," Emma S. says, recalling her previously failed attempts at weight loss. "I'll do it tomorrow, or my husband loves me the way I am so why bother?" were of few of her common excuses. It wasn't until she came across an article about HealthyWage that Emma finally found the accountability she was looking for. "The thought of losing money if I didn't reach was goal was more tangible and painful. The procrastination voice was a lot quieter."
Emma bet $50 a month for 6 months that she would lose 50 pounds. She crushed her goal, losing 51 pounds and winning $1,079!
What if there was a way to put some proverbial skin in the game in addition to the literal?!
The good news is that there IS in fact something out there that'll help you do just that.
I seriously wish I had heard about this option when I started my Keto journey.  My competition came in the form of trying to beat my husband to goal weight, but dang it! I could have got paid to lose weight too!! 
So what did we stumble upon we wish we had know when starting our weight loss journey? Healthy Wage!
Now, we were both skeptical as all get out when we first heard about it, and decided to research and review to get to the bottom of it, after tons of digging and research, they are legit, and there's plenty of science to back it up.
Before I get into the details about how Healthy Wage works, let's talk about WHY it works and some fascinating studies that support the results folks are getting when they make a bet on themselves to lose weight.
The Mayo Clinic Study on the effects of getting paid to lose weight
According to a recent study by the Mayo Clinic, "financial incentives are powerful and effective at helping motivate people to lose weight".
They studied 100 obese adults over the course of a year.
They were divided into 4 groups. two groups had financial incentives and penalties, while the other two groups had neither.
The rules were simple.
Participants were asked to lose 4 pounds per month, if those in the incentive group succeeded, then each month they received $20, if they failed to meet the 4 pounds a month goal they paid $20 into a prize pool.
ALL group participants were eligible for the prize pool at the completion of the study.
The results were staggering.
In the incentivized group, 62 percent of participants made it through the ENTIRE YEAR, vs only 26 percent in the non-incentivized group.
Think about that for moment.
The first study we examined found 80 percent of people tend to quit a diet within 90 days. EIGHTY PERCENT!
By adding $20 a month worth of incentive to the mix, they've flipped those numbers almost 180 degrees!
Pretty powerful evidence of the motivational incentive even a tiny amount of money can have on your drive to get results.
Even more interesting was the finding that those in the incentive group who paid the penalties were MORE likely to continue on through the year to hit their goals.
Last but not least, while their goal each month was to lose 4 pounds, the average weight loss per month for the incentivized group was 9.08 pounds (double the goal), vs only 2.34 pounds for the non-incentivized group.
Let's recap that real quick, by adding some monetary incentives and skin in the game…
Participants more than doubled their weight loss goal each month
Lost almost 4x more weight monthly than those without monetary incentive
Were almost 40% more likely to stick to their diet for the year even when they had "failed" months and had to pay in!!!
Alright, so now that we've delved into the science behind it, it's time to show you how to put some skin in the game and GET PAID TO LOSE WEIGHT!
So How Exactly Can You Start Getting Paid to Lose Weight?
How it works is pretty straight forward, and only takes 3 steps to see your potential earnings.
Step 1
you head to their site to calculate your weight loss wager
plug in how much weight you'd like to lose,
how long you want to take to lose it (minimum is 6 months)
and how much you want to wager (minimum 20$ a month).
The minimum time commitment is six months. To give you an idea, my husband lost over 60lbs in six months, and I lost 44lbs.
The amount you will lose will be different based on how much you have to lose, health issues, how much you start exercising, etc. So always wager responsibly.
At this point you will see a high and low prize range for your bet, to dial it the rest of the way in they need some more details, which is step 2
Step 2
Choose male or female
Your current height
Your current weight
Step 3
Create a password for your healthy wage account and they email you your login information.
That's it, you're not under any obligation for anything at this point.
You now have full access to the site to play with the weight loss bet calculator, time range, dollar amount etc.
You can create as many different options as you'd like to get the payout you desire, and when you have one you like you can than create your wager.
Here are a few examples I created to give you an idea.
Now from this point, you have quite a few options, you can do the individual challenge, where the only one you are competing against is yourself.
You either hit your goal within the time frame or you don't. If you do, you win, simple as that.
There are also group/team challenges, where the potential prize is much bigger, as high as $10k, BUT, you split those pots with all winners in the group challenge.
There are also personal and step challenges. With some of the added personal challenges, your goal is to lose a percentage of your overall weight in a limited time frame.
Step challenges run for set times, and your goal is to increase your individual steps by 25% over the course of the challenge.
These can be a great tool both in reaching your goal weight, but also to help maintain it and make a little extra cash along the way.
You can do up to 10 of these alongside your own personal weight loss wager to make even more money losing weight if you desire.
Quick recap, so far we've covered
why and how quickly most dieters fail,
the power of monetary incentives to increase success rates and results,
an amazing program to help you get paid to lose weight and how to get started with it.
Not convinced yet? Check out just a few of the thousands of success stories. 
Sharon P. From New York NY
Lost 52 pounds in 6 months
Won: $1,056.35!
"Having PCOS and being insulin resistant, I was always prone to being a bit overweight. I always had the excuse that since I have hormonal problems, I'm destined to be a big girl. Healthywage gave me the push I needed to stop using excuses. I started dieting and exercising regularly. I cannot thank HealthyWage enough. I finally feel like I am in control. Thank you!"
Stephanie N. From Shreveport, LA
Lost 71 pounds in 9 months
Won: $2,905.06!
They say pictures are worth a thousand words. For Stephanie N., those words were anything but positive after seeing pictures of herself from her recent birthday celebration. "I saw the pictures and became super depressed about how I looked. It was disheartening to see how much I had let myself go…I've been overweight my entire life and I was done being overweight." I had been on every diet and always faltered. I needed to put money on the line to stay committed."
Stephanie bet $100 a month for 9 months that she would lose 70 pounds. She crushed her goal, losing 71 pounds and winning $2,905!
Crediting the ketogenic diet for shedding the pounds, Stephanie revamped her eating and exercise habits.
"I feel more productive at work. I feel more vibrant. I feel more full of life. I've started doing things I wouldn't have done [before losing weight]. I started a hiking club in my city and did a half marathon recently."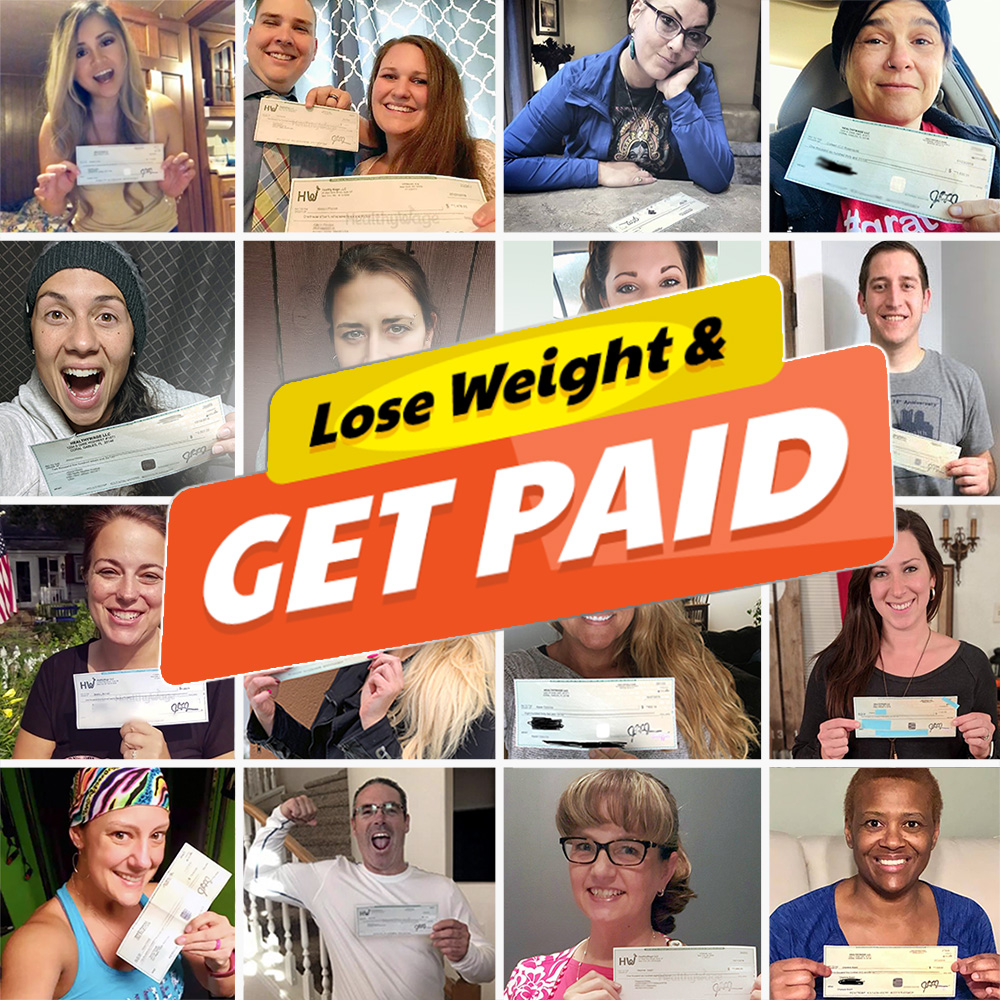 Now let's dive into some of the most common questions people have surrounding the program.
1. Is Healthy wage a scam or is it really legit?
100% Legit. Founded in 2009, they have been featured on
Good morning America
NBC's today show ( 3 times)
Wall street journal
Woman's Day
New York Times
Washington Post
Time magazine and so many more.
2. How do I get my starting and ending weight verified?
This only needs to be done twice, once within a week of officially starting your challenge, and again within 2 weeks of your goal date, that's it.
It's super easy to do — you have two options:  These ensure everything is on the up and up and there's no cheating.
Option One [RECOMMENDED]:  Use their Mobile App!
This is their most popular option and also the easiest, and you can do it in the comfort and privacy of your own home!
Takes about 30 seconds
Totally private and secure
Step on a scale in your own home
On-screen instructions guide you through the steps
Upload your video and our referees will review your results
They have apps for iOS and Android
Option Two:  Video Verification
You can make your video with a partner (fun!) or even do it by yourself using a full-length mirror. Once done, just upload it to your challenge dashboard and that's it! You're done. You can use your phone or a camera, whichever is easier for you. The HealthyWage website is mobile-friendly, so uploading from your phone can be done quickly and easily!
Film your short video (either by yourself or with a partner recording you
Log in to HealthyWage and upload the file through your dashboard
You're done!
3. How do I make my monthly weight loss wager payment?
You can choose to either make your weight loss wager payment monthly, or all at once, it's entirely up to you.
4.What if I decide to quit before my challenge is over?
Part of the reason this is such a successful method of helping you lose weight and get paid to do it is that you have skin in the game. Giving you the option to quit early and tap out with no penalties would defeat the purpose. There are no refunds or cancellations, however if you become pregnant, they will suspend your challenge until you are ready to resume it.
5. How do I collect my winnings?
After you submit your final verified weigh-in, verification occurs as soon as 1 day but never more than 7 days. Then, if you select PayPal for your payout method, you'll receive the money within 3-5 days. If you select a check as your payout method, you'll receive that in the mail within 1-3 weeks.
If you need something tangible to keep you motivated, or have a competitive streak, having a little skin in the game can lead to HUGE success. In this case, you win twice;  not only do you stand to win some cold, hard cash, but you are going to FINALLY lose those pounds!
Now picture yourself this spring break…lighter, healthier, and some extra cash for that relaxing vacation!
"When you feel like quitting, think about why you started."– Author Unknown
Stop waiting for tomorrow and bet on your success right now! Future you is waiting!
Have more questions about the program? Drop us a line or leave your questions in the comments below, we will get you answers ASAP!
Disclosure: As an Amazon Associate I earn from qualifying purchases. This article may contain some affiliate links and I may receive commissions for purchases made through links in this post, but these are all products I highly recommend. I won't put anything on this page that I haven't verified and/or personally used. Full terms can be viewed here: Disclaimer
Medical Disclaimer: Just in case you missed it, there is NO MD after my name. This means all information you see and read here should be taken as informational, and is no substitute for actual medical advice or treatments. Please see our full medical disclaimer here for details.  Disclaimer